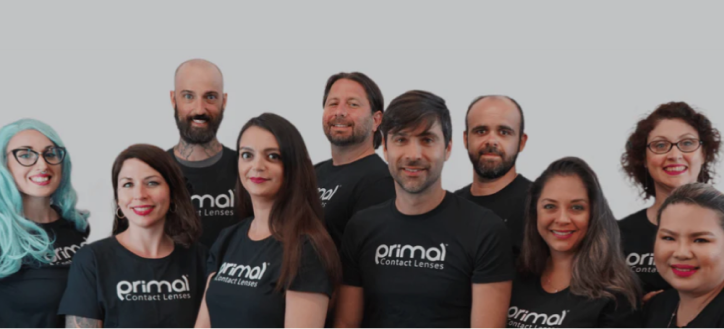 PRIMAL® Coloured Contact Lenses is a Canadian company specializing in the manufacturing and distribution of costume and cosmetic coloured contacts. We apply our expertise in research, design and technology to produce a colored lens that is exceptional in both quality and comfort.

Our research and development team carefully selects each pigment according to various criteria such as the level of opacity and the ability of the lens to mimic the eyes natural colors.
PRIMAL® coloured contact lenses are manufactured in standardized facilities according to internationally accepted standards and are distributed worldwide. PRIMAL® offers in-depth customer care for all retail and distribution purposes to ensure an exceptional before-and-after sales experience. PRIMAL® Contact Lenses comply with international standards that apply to Contact Lenses. All contact lenses sold by PRIMAL® Contact Lenses are manufactured in a facility that is compliant with international quality standards certifications such as ISO13485, CAMDCAS, CE, and US 510K and are authorized to be sold in USA, Canada, Australia and an expanding list of other countries.
Meet Our Dream Team
Louis-Philippe

Founder & CEO

Philippe was looking for a new challenge and he was the first step to make it all happen. Thanks to his vision, our employees and customers can be transformed by PRIMAL® products.

Matthew

Operations Manager

Matthew's ability to work with multiple departments to assist in creating a seamless work environment makes him an indispensable member to the
PRIMAL® team.

Jonathan

Marketing Manager

Jonathan is the force behind every department within PRIMAL® from creation to communications, his humour and expressive personality fuses the daily office tasks with the alternative exciting crazy world of Halloween and special effects makeup.

Joey

Sales & Customer Care Specialist

Joey loves to travel to trade shows and getting a chance to meet our customers face-to-face. Speaking to the same clients for years over the phone and then finally meeting them in person is the best experience to him.

Erika

General Accountant

Erika is all about converting life into numbers but her radiating and uplifting attitude is all heart when it comes to office morale!

April

Sales & Customer Care Specialist

April is in the heart of all the magic at PRIMAL®. From our valued retailers all around the world, to our super talented artists and collaborators, there's never a dull moment when assisting the variety of our awesome customers.

Stephanie

Sales & Customer Care Specialist

Stephanie is an essential part of how we build and maintain relationships with our amazing clients and reminds us everyday of how easy it is to enjoy the work we do at PRIMAL®.

Irène

General Assistant

Irène is a fundamental tool at PRIMAL®. She is always there to help us in multiple departments.